Armours Funeral Service Caring and Trusted Since 1981.
When someone close to you dies, coping with the practical arrangements can seem overwhelming. You may be feeling lost or shocked. Based in Ayr, and operating throughout Ayrshire and beyond, we are here to offer guidance and take away worry or doubt at any point.
  CONTACT US
  ABOUT US
Immediate Concerns
There is no right or wrong time to call. When someone close to you dies, coping with the practical arrangements can seem overwhelming. You may be feeling lost or shocked. This may be the first time you have had to organise a funeral. Or you may have been preparing for this day for some time. It's normal to have questions about the practicalities. Please don't wait to call us. Arrangements can be made at any time and finalised later. We are here to offer guidance and take away worry or doubt at any point.
Step 1

Medical certification
If the death occurs at home, a doctor should be contacted as soon as possible. For deaths in hospital, a hospice or nursing home, you can contact us first and we will take care of all the practical matters. Unexpected, sudden or accidental deaths are referred to the Procurator Fiscal in Scotland or the Coroner in England for further investigation. This can lead to a delay of several days before you are able to confirm definite funeral arrangements.
Step 2

Taken into our care
Once a qualified medical professional has given authorisation, we can bring your loved one into our care. No matter where in the UK you need us, we're available to help at any time, day or night, every day of the year. Our specialist team are known for their compassion and dignity. You and your loved one are in trusted hands. If you would like to, you can arrange to see your loved one again to say goodbye, taking as much time as you need.
Step 3

Registering the death
Provisional funeral arrangements can be made before registration, but a death must be formally registered before the funeral can take place. For deaths in Scotland, an appointment can be made with any Registrar within eight days of death. Deaths in England can only be registered in the district where the death occurred and must be done within five days. As funeral arrangements cannot be confirmed until registration is complete, we recommend appointments are made as early as possible.
Step 4

Spending time with a loved one
There's no right or wrong when it comes to spending time with your loved one. For some people it helps with the grieving process and many of our clients tell us it has a longer term healing effect. This can be as public or as private as you wish.
Step 5

Arrange the funeral
Funerals have the power to be very meaningful. Unique to your loved one. A reminder of the things they held dear and which were important to them and you. Our role is to help you arrange an appropriate funeral. It may be traditional or contemporary, religious or non-religious, formal or informal – or a blend of influences, whatever you choose we are here to support you and carry out your wishes.
Repatriation
Repatriation to and from the UK. When someone has died abroad, they can be repatriated and brought back to their home country to be buried or cremated.
Armours Funeral Service can offer help both in repatriating non-UK citizens and also bringing UK citizens who have died abroad, safely home. We have considerable experience in arranging repatriations to and from many different countries. Rest assured at every point you can expect us to uphold the highest standards of dedication, care and respect.
First steps for UK residents
In the event a death occurs overseas, the deceased's travel insurance provider should appoint a local funeral director. It is the local funeral director's role to arrange transport of your loved one and necessary documentation back to the UK.
Step 1 – Registering the death
When someone dies abroad, the death must be registered in the country where the person died. The Foreign & Commonwealth Office, British Embassy, High Commission or British Consulate can all advise on how to do this.
In the absence of valid travel insurance, you will need to instruct a local funeral director to arrange care before returning to the UK and cover the costs of repatriation.
Once the death has been registered, the local funeral director in association with the local authority in that country will arrange for the necessary documentation to proceed with repatriation. The deceased's passport is essential to this process. Timescales vary slightly but, unfortunately, it's not unusual to face significant delays
Step 2 – Obtaining a death certificate
Death certificates will be issued in the language of the country of death. If need be, we can arrange for these to be translated into any language.
Step 3 – Making funeral arrangements
Whether we have been instructed to repatriate to or from the UK, before funeral arrangements can be finalised, authorisation will be required from the local authorities in the destination country. Also, whilst every care is taken, repatriation services employ third parties including airlines, ferries, and trains whose timetables and schedules can be subject to last minute changes. We therefore recommend that no funeral arrangements are finalised or announced until the deceased – and the paperwork – has arrived in the destination country and all necessary permissions obtained.
Step 4 – Returning ashes to the UK
Returning to the UK with human ashes will require a death certificate and a certificate of cremation from the country where death occurred. Each country has its own rules about departing with human ashes and there may be additional requirements. On arrival to the UK, expect to complete a standard customs form. It is also worth checking with your transport provider to find out how you can safely carry the ashes securely.
Step 5 – Notifying the authorities
The 'Tell Us Once' service can be used if the person died in a Commonwealth country, a European Economic Area (EEA) country or Switzerland. Using the deceased's National Insurance number, central and local Government agencies are informed of the death and centrally update records relating to: council tax, passport, state pension, benefits, disability blue badge, and driving licences.
Step 6 – Leaving the UK with ashes
The best way to repatriate ashes is to take them personally. If that is not practical, they may need to be sent by air as cargo. Currently, courier and postal services no longer repatriate ashes.
Each country has its own rules for repatriating ashes from the UK. The best thing to do is determine the specific requirements with the consulate of the country to which they are being repatriated. We can assist with all necessary documentation and practical arrangements. You will always require at least a death certificate, a certificate of cremation and a customs disclaimer.
On arrival at the destination country, expect to complete a standard customs form. It is also worth checking with your transport provider to find out how you can safely carry the ashes securely.
The Service
Transport
A luxury fleet or something unique
Our funeral fleet consists of distinctive Black Mercedes Benz E Class vehicles and include limousines for family members. Each limousine is able to carry up to six people in the back, with one extra space in the front. Additional cars can be arranged for key participants. Children and babies can also be included in your transport plans but you will need to provide the necessary car seats.
We may be asked to provide transport for the minister or service officiant at some point during the funeral and it's often the case they use the seat at the front. All our limousines have the facility to play music while you travel.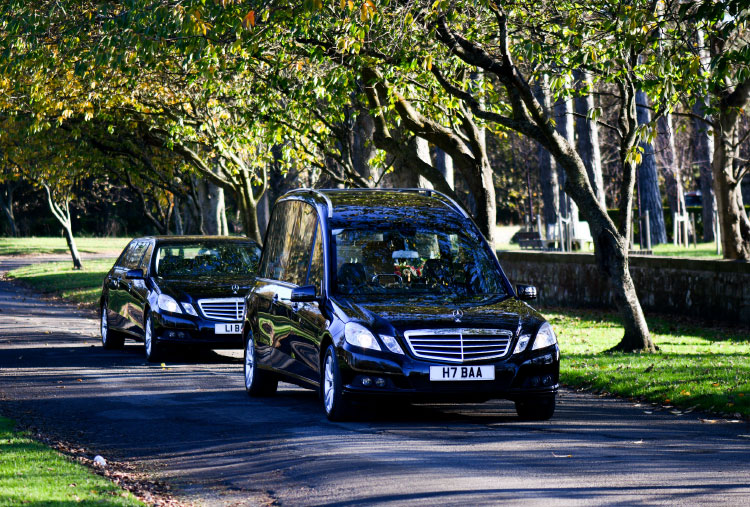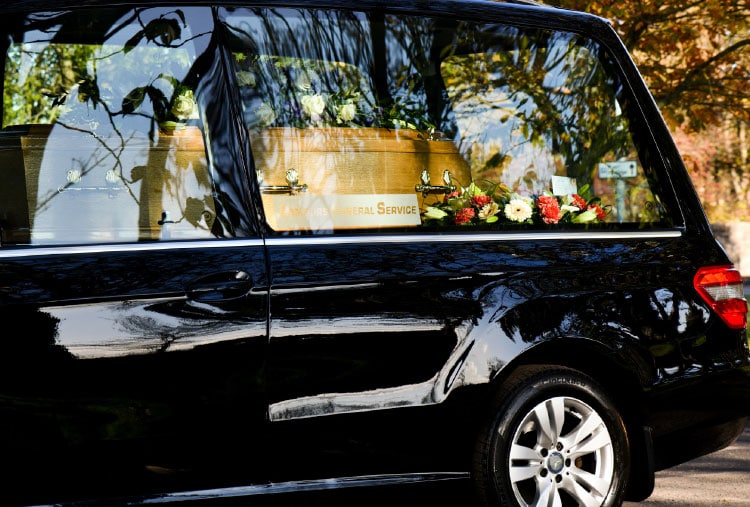 Flowers
All local florists deliver to us as part of their service
Flowers can add another personal element. From traditional funeral sprays or wreaths, to contemporary displays, there are many options available. Often these are shaped by what purpose the flowers will serve after the funeral; placed on a grave, taken to a hospice or nursing home, left in a church or place of worship, or divided so family members can take a memento. We can arrange floral tributes on your behalf, whether that is choosing something for you where there is no preference or following a specific request. For personalised tributes or to see the fullest range of possibilities you may wish to talk to your local florist direct.
Planning funeral catering
Hotels, church halls, sports clubs and other venues are often used to provide mourners with refreshments after the funeral. Bringing mourners together can play an important role for family and friends in saying goodbye. Plus hearing stories and tributes to a loved one can add to fond memories and be a continued source of strength for those left behind.
If you'd like any help to plan a wake after the funeral we are happy to advise you, or take care of any additional planning, from catering to music and flowers, no matter how many guests are anticipated.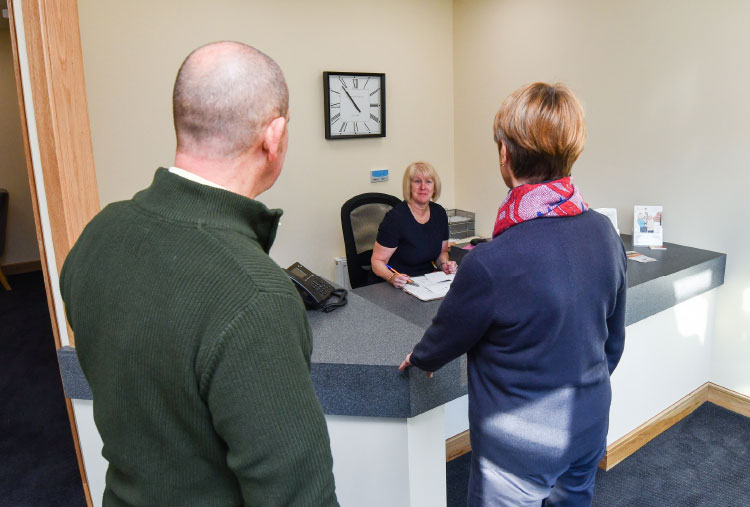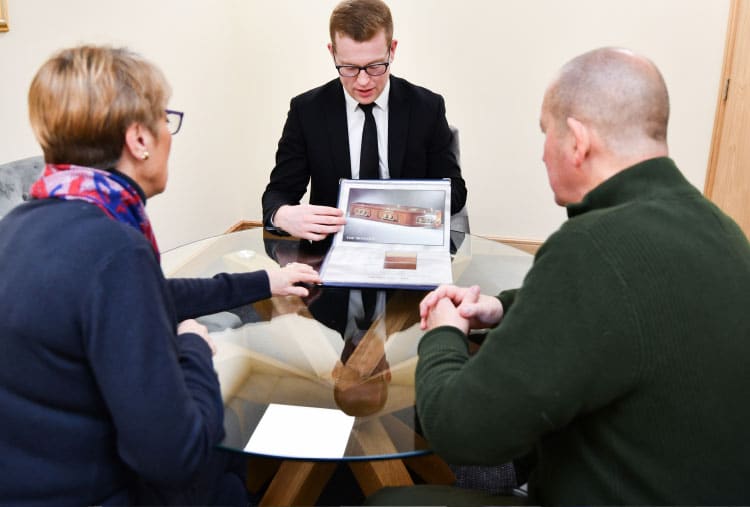 A choice of coffins and caskets for every preference
Coffins and caskets are available for every preference and budget. Whatever you would like – no matter how unusual – we can explore the options with you, guiding you to ensure the coffin or casket is just right and it complies with any limitations set by the crematorium or cemetery. Our range is environmentally friendly and with the exception of the metal caskets, they are all suitable for burial or cremation.
About Us
Known throughout our local communities for the highest standards of compassionate care
When you place your trust in Armours Funeral Service you can expect the highest standards of professionalism, and a truly distinct service. The role of our funeral director is to ease the stress and burden of decision-making, to listen carefully so that we may offer you expert guidance and provide you with a single point of contact who is always on hand to ease any worries or uncertainty with compassion and practical help.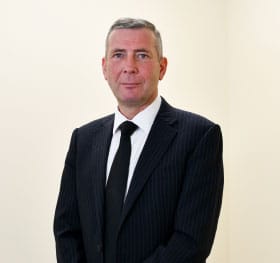 Brian A Armour
Funeral Director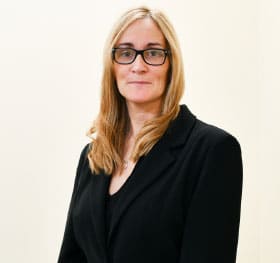 Clare
Funeral Arranger (Dip. FAA)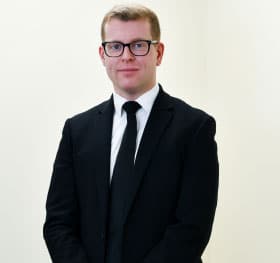 Oliver A Armour
Funeral Director (Dip. FD)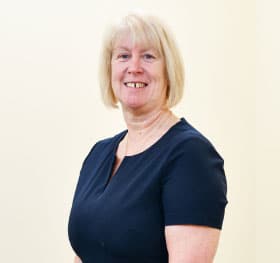 No two funerals are the same. And no two funeral directors are the same either.
At Armours Funeral Service, our prices include many of the funeral elements that other providers add on as extras. To help you compare like-for-like, here's our guide to pricing.
Add-ons, extras or included as standard?
Armours Funeral Service doesn't charge extra for:
Coming to your home to make arrangements
Out of hours attendance
Collecting clothing locally
Family viewing
Saturday morning funerals
Additional staff
Delivery of ashes locally
Online obituary
Other factors to consider:
Experience of staff
Quality of reputation
Standard of facilities
Quality of fleet
Professional accreditation
We're here to help you when you need us the most. 
Feel free to visit us in branch to meet our team, see the premises and ask any question you want.
 Traditional Service
 Simple Service
 Sunrise Service
Took special care of my dad and gave him the best funeral we could have asked for. Thanks so much to Oliver and everyone else at Armours Funeral Service
Excellent service. Respectful, very supportive and compassionate in their approach. Effectively guided the family at this sensitive time through all that needed done. Recommend Armours highly. Thanks once again.
There are no words to express my gratitude for genuine care and support you have shown to me over my recent bereavement.  This has been a really difficult time for me but knowing you were there for me and my family was so comforting.
With much appreciation always.
Though restricted, the funeral was dignified and serene and that was due to your professionalism and understanding.  We wanted to let you know how thankful we are, not just for your excellent service where you went above and beyond, but for your kindness, you clearly cared and that was a great comfort to us.
Our sincere gratuity
Thank you all for dealing with my Fathers recent cremation and making the process as soon as possible under current restrictions.  Our family really appreciate the care, attention and sensitivity provided over the recent weeks.
On behalf of our family, again, my heartfelt thanks.
On behalf of my family we would like to thank you all for your support and care you have given us since the passing of our mum.  From the very beginning you guided and cared for us and we really appreciate it.  Your standard of care is exemplary.
Mums service was perfect, and you captured her so well in her Eulogy.  It made our grieving much easier knowing that we were in such good hands.
Thank you all so much.